Vinay Kolhatkar
Hello there. Welcome to my website. Browse around, make yourself at home.
I am a freelance journalist, novelist, screenwriter, and finance professional.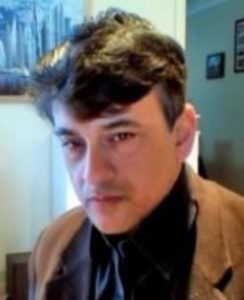 I am the author of A Sharia London and The Frankenstein Candidate.
They are what I would term "Romantic Thrillers," but in a DVD store, you would have found these kinds of stories in the Drama, not the Thriller, Romantic Comedy, or Romance sections. So what's the difference?
The word "romantic" includes this connotation—marked by the imaginative or emotional appeal of what is heroic, adventurous, remote, mysterious, or idealized. A thriller, on the other hand, is a work of fiction designed to hold the interest by the use of a high degree of intrigue, adventure, or suspense. Suspense is crucial—it's fascination about what will happen next. The story cannot be a thriller if it does not instill suspense.
Literary classification tends to look down on thrillers, ascribing the term only to crime narratives that do not involve issues of social gravitas. But I came to novel writing via training in screenwriting, where cinematic expression, cliffhangers, subtext in dialogue, an action-dialogue interplay, plot twists, and a build up toward a climax to resolve the story's conflicts, are considered techniques applicable to all storytelling, as indeed they should be.
Unfortunately, the literati have made the book genre "literary" synonymous with boring and meaningless—long, meandering stories of unresolved conflicts, coincidences, and prose that is skillful but often governed by the writer's insistence on showing off at the expense of the story's pace. However, being witness to a deep moral conflict and a character's inner journey can be exciting when classical storytelling techniques—a resolvable conflict, high stakes, a closed-ended plot, subtext, an external adventure running in parallel with internal character growth, twists and turns in the plot, and character depth—are all brought to bear upon the structure and pacing of the narrative.
That is what I seek to offer you.
But you didn't come here for a lecture on aesthetics. If you do want to find out more about this class of literature, where the word Romantic (capitalized) stands for something, check out the links below:
---
BOOKS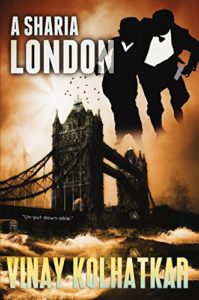 A Sharia London
Outwardly, Jamila is a picture of Islamic conservativeness. But the young, beautiful, bohemian has long become an apostate. Using her face veil and hijab to stay undetected, she rescues young women from being sold to ISIS.
But then, she falls in love. Will her cover be blown?
Can her lover, a politically correct, mild-mannered lecturer, transform into a ferocious crusader? It may be the only way to rescue the rescuer against all odds, as she throws caution to the wind.
Excerpts of Reviews:
"The core moral of the story is an increasing sense of life as danger becomes real and present. Living a life without meaning is closer to being dead while living the life you choose despite the risk and dangers is intense and meaningful: 'Suddenly, he knew. She lived. She lived every day anew like it was her last, extracting every residue of purpose and cheer from whatever life threw at her. Every day.'"
"My Husband bought this book for me and I really wanted to write that I've loved it. I just finished [reading] A Sharia London and consider it the best theme since Dan Brown ['s] 'Inferno'."
"This novel is a rarity these days: plotting, imagery, dialogue, scene-setting, characterization — all masterfully done. I couldn't put it down."
"A Sharia London elevates a great thriller into literary Romanticism."
"Expect to be upset by this book, to be shocked, to be excited – and to enjoy every minute of the experience."
"A Romantic novel or a Fundamentalist thriller, or both? A Sharia London is the new novel by Vinay Kolhatkar that brings in an insiders view of radical Islam and the people's struggle to break free from it."
"The plot, with its twists and turns and surprises, the characterizations, the relationships between the characters, and the philosophy imbedded in the dialogue are all 5-star plus. And Jamila – what a positive sense of life she has and what an inspiration she is to all!"
"Peace and tolerance may be virtues for a history professor who wants to play it safe at a distance, but the clash of civilizations gets personal when Marlon, a western scholar of Islam, meets radical Islam face to face in his city, his classroom, and his bedroom. A mild mannered professor steps out of the lecture hall and into your heart, and gut, and messes with your head, in this genre bending literary thriller."
"You are drawn into this forbidden love story set in contemporary London where worlds (and world views) collide. This book is complex; dense, in the sense of being substantial, and rich in real (not plastic) human drama, which is why it appealed to me. I am both a literary reader and writer, and as such do not read mainstream fiction."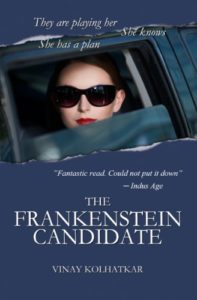 The Frankenstein Candidate
Published in January 2012, The Frankenstein Candidate narrates a story of a billionaire businessman who throws his hat in the ring of a set-in-2020 U.S. presidential election as an independent, and viciously disrupts both the major political parties.
—It's November 2019, and another U.S. presidential election season approaches. Senator Olivia Allen—brilliant and beautiful—signs onto the Democratic presidential ticket, unaware of powerful forces that seek either to control her or destroy her.
Her opponents are Frank Kenneth Stein, a billionaire who would rather be forthright than President, and Quentin Kirby, the power-hungry, Republican vice president. As the campaign advances toward an electrifying climax, their brutal maneuvers play out against a backdrop of national crises.
For Olivia, however, the greatest perils lie in the corridors of Washington power, as she finds herself becoming a mere pawn in a deadly game of entrapment, blackmail, and assassination. Can she turn the tables—ensuring America's survival as well as her own?
Excerpts of Reviews:
"Vividly rendered, flawed, and interesting characters. An engaging multilayered plot."
"If you like House of Cards, you will love this book."
"Understanding that action and ideas are each nothing without the other, this novel is at once intellectual and a cracking good yarn. I thoroughly enjoyed it."
"Like a cross between Lee Child and Allen Drury, Its pace is perfect, plot relentless, and its economics as up to the minute as the calamity the author describes is urgent."
"Could not put it down! Did not see the end coming! There are so many important themes, I am still thinking about them days after finishing. I'll bet you will re-read this novel."
"Imagine the paranoid conspiracy thriller The Manchurian Candidate combined with the political football intrigue of Allen Drury's Advise and Consent."
"HOLD ON TO YOUR SEAT!!!"
"This is the kind of writing, and Vinay Kolhatkar the kind of thinker and writer, that changes minds and ultimately cultures."
"It is the best debut novel I've read in decades."
"Great writing, great characters, great plot, great insights into the politics of wealth and power; it's brilliantly done."
"It's a social commentary, it's a political thriller, [and] it's a really interesting read. This book is very professionally written and the plot is intricately developed and refreshingly original."
---
BIO
Vinay Kolhatkar is a freelance journalist, novelist, screenwriter, and finance professional.
His aesthetic work has appeared in the literary magazine The Missing Slate and the peer-reviewed journal Reason Papers, and his finance essays have been published by the Australian Securitisation Journal, Cuffelinks, and JASSA.
Vinay is also a columnist and editor at The Savvy Street philosophical e-zine he founded.
In a finance career spanning over 20 years, he led the financing of large infrastructure transactions and became a director of Great Energy Alliance Corporation and of TransACT. Later, he tutored in Corporate Finance at Kaplan Business School.
He has two master's degrees from UNSW: in finance, and in journalism with High Distinction.
Vinay has also penned two TV pilot screenplays (Marlon Stone, and Unlikely Partners), and has had two novels published in the unusual Romantic Thriller genre: A Sharia London and The Frankenstein Candidate.
---
JOURNALISM
Fictional worlds do affect us—and not just during the reading or viewing. They seem capable of changing our worldview. Harriet Beecher Stowe's Uncle Tom's Cabin may have changed a nation by painting a blueprint of a world that wasn't there yet.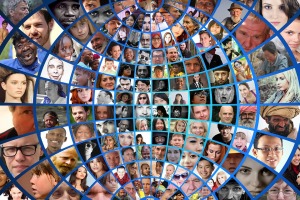 In Asia alone, there live 4.4 billion of the world's 7.3 billion people. But when top-notch recruitment firms in the West claim they found a new multimillion pay-packet CEO after a "global" search, just how global is this search? I asked this question of several executives at leading headhunting firms by email, and I have yet to receive a single reply. Is this guilt admitted by omission?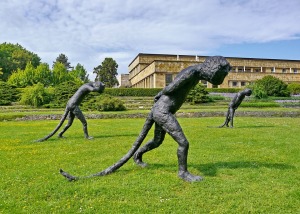 Political correctness is not really about politeness, the giving or taking of offence, or freeing us from stereotypes. That's the cover. Political correctness is part of a culture war, the roots of which go back to the 1920s. The culture war's full-blown manifestation is what we are witnessing today; it has been ninety years in the making.
I write about aesthetics, politics, culture, and economics from a standpoint of philosophical detection.
More about my journalism can be found at my author archives at Savvy Street.
---
EVENTS
---
(Visited 525 times, 1 visits today)